Here's good news about DCSO, reprinted from The Bulletin.
A few brief Tumalo Lookout comments follow below the story.
---
Deschutes County sheriff's deputies to get intervention training
Verbal Judo Institute president will teach course
By GARRETT ANDREWS The Bulletin
Sep 15, 2020 Updated 1 hr ago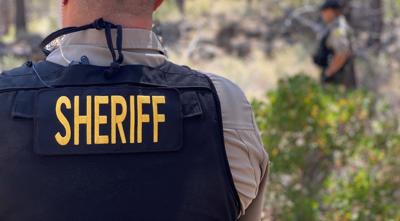 Deputies with the Deschutes County Sheriff's Office are being trained to speak up when they see a coworker breaking the law or department policy through a course in officer intervention training.
Mike Siegfried, president of The Verbal Judo Institute, is teaching a program for deputies over two sessions this month and next focusing on communication in difficult situations.
Officers failing to act to stop their peers from misconduct is thought to be one of the factors responsible for fatal police encounters in the U.S. In May, three Minneapolis officers watched for more than eight minutes as an officer knelt on the neck of Black man George Floyd and appeared to do nothing to stop it.
A number of police agencies in Oregon now have their own "duty to intervene" policies and this year, the Oregon Legislature passed House Bill 4205, establishing a police officer's "duty to intervene" when witnessing another officer engage in misconduct.
Given the new legislation and the national conversation around police misconduct, many agencies are crafting policies or reinforcing existing ones with training, according to Eriks Gabliks, director of the state police academy in Salem.
An officer's duty to intervene is one aspect of the larger law enforcement issue of conflict deescalation, Gabliks said.
"Deescalation isn't just communication," Gabliks said. "It starts when we arrive somewhere. It could be keeping our distance from someone, or how we approach somebody and interact with them."
Officers of the Portland Police Bureau will be trained through a program called ABLE, Active Bystanders in Law Enforcement, which was developed by the Georgetown University law school.
Bend Police Department held intervention training and reporting following the special legislative in June. Spokeswoman Lt. Juli McConkey said staff regularly trains in de-escalation and crisis intervention, which his more focused on intervention in a high stress situation or for people in a crisis.
An earlier attempt by Deschutes County Sheriff's Office to hold officer intervention training was upended when the sheriff's office consultant, Greg Walker, came under fire for hostile and offensive social media posts. At the time, Walker described his training as a Verbal Judo Institute course.
Sheriff Shane Nelson has been criticized for going around the county's public bidding process to offer Walker, his friend, the $8,000 contract to hold the training.
This week, Siegfried sought to distance his group from Walker.
"He has no affiliation with us other than he co-authored a book with our late founder in 2007," Siegfried said in an email to The Bulletin. "We have crafted our program to fill the expressed needs of our client. It is our training not Mr. Walker's."
Siegfried also disagreed with an assertion by Deschutes County District Attorney John Hummel that Verbal Judo supports a "warrior mentality" in law enforcement, though he agreed that mindset was inappropriate in law enforcement.
"Police should be guardians not warriors,' Siegfried said. "After all, police and all first responders are also members of the community. They are mothers, fathers, sons and daughters and every first responder returns to the community when their work shift is completed and when they retire."
Siegfried said Verbal Judo is focused on demonstrating dignity and respect for all people. He defended the group's name.
"A study of the word "judo" can be revealing to our approach," Siegfried said. "'Ju' in Japanese means gentle and "do" means way. Verbal Judo is the gentle way of communicating with another human being. We think the world could use a lot more of that right now."
Reporter: 541-383-0325,
---
From The Tumalo Lookout
The Bulletin's story may be a bit confusing to some readers, because it discusses two related issues of conflict de-escalation and cop-to-cop intervention. Both are necessary components of law enforcement training, and both can save lives.
Conflict de-escalation and cop-to-cop intervention
Conflict de-escalation training focuses on methods cops can use in the field to try to "de-fuse" volatile situations before they turn violent. These methods can sometimes be very effective. I've observed them used successfully by DCSO deputies on a ride-along in South County, and I'm really impressed by how well our deputies handled that situation.
Cop-to-cop intervention will, hopefully, help cops learn how to de-escalate the conduct of their own fellow officers during potentially volatile incidents. This kind of training is needed because real-life complexities of cop culture often make "standing up" to your colleagues both difficult and risky.