The day is just full of good news, isn't it? And whadda surprise: one of the porkers is from Alabama.
But don't blame me, I'm just the piano player. This is reported by Fox News of all things, on Nov. 6, 2020. (If that rag reports it, you know it's disreputable conduct.)
The Fox article is reprinted verbatim here. I've only reformatted the juicy quotes as pull-outs.
I've reprinted the local news coverage of each of these incidents in its own blog entry, just to rub it in. You can find the Alabama porker article here, and you can read more about the Colorado porker here. That one's especially interesting, by the way.
And to think they give these people guns and badges…. sorta makes ya' wonder why cops get so little respect, doesn't it?
So, here's the latest low-down.
---
Cops in in Colorado, Alabama accused of making threats against Biden supporters
The alleged threats come as Biden has overtaken Trump in key states needed to win the presidency
A police officer in Alabama has resigned and another in Colorado was put on leave this week after allegedly posting incendiary comments about supporters of Joe Biden on social media.
Scott Walden, a captain in the Flomaton, Ala., police department was initially placed on leave after he reportedly said that people who voted for Biden need "a bullet in their skull for treason" in a Facebook thread.
"The idiots that voted for Biden hated Trump enough to throw the country away. Thank the lying liberals and democrats news media," a Facebook user wrote.
In response, Walden allegedly wrote Wednesday: "They need to line up ev1 of them and put a bullet in their skull for treason."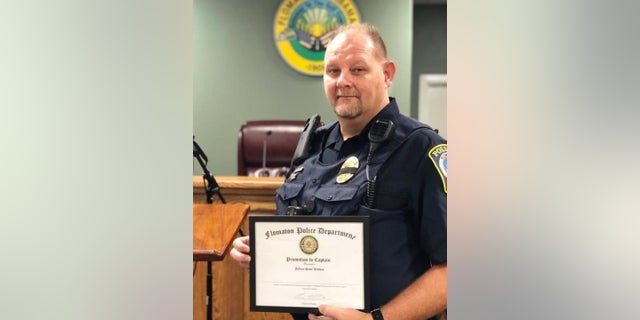 Scott Walden, a captain in the Flomaton, Ala., police department was placed on leave after a Facebook post in which he threatened supporters of Joe Biden (Flomaton Police Department)
The comment generated complaints and eventually the department received emails and phone calls about it, Police Chief Charles Thompson said in a statement.
"The officer on which the complaint has been filed has been placed on Administration Leave pending an Internal Investigation that is currently underway," it said.
On Friday, it was reported that Walden had resigned from the department, WBMA-TV reported.
In Platteville, Colo., officer Jason Taft was put on leave after allegedly posting to Facebook that he wanted to "beat the hell" out of Democrats and asked them to "meet me at the battle grounds."

He later posted that he would leave his job so he can "hurt these people that act like they know what real life is about." He also said people who voted for Biden should unfriend him.
Taft has been with the department since January 2018, the Greeley Tribune reported. Video
Police Chief Carl Dwyer said the incident was under investigation. Calls to Dwyer from Fox News were not immediately returned.
Biden won Colorado and its nine electoral votes Tuesday, unlike in Alabama. As of Friday, Biden has taken the lead over President Trump in Georgia and Pennsylvania as poll workers there continued counting ballots.
---
From The Tumalo Lookout
And two more pigs (Homo vorsutus Americanus sus) disgrace themselves, their departments, and their profession.
The problem here is not only that the colleagues of these pigs turn their collective heads away from this kind of misconduct and pretend it isn't serious; worse still, it's that these pigs still have sympathetic audiences among their colleagues.
Pigs with badges and guns are our collective nightmare — for cops and citizens alike.
But cops who condone this behavior through their silence and complicity are the real problem. And that's probably half of the cops in any given agency. That's half the cops that We, The People, can't tell apart from the real good guys.
And that makes for a collective distrust and disrespect of all cops.
I've said it many times: cop culture is the problem.
And cops are their own worst enemies.
For a profession that's all about clues, cops are mighty fuckin' clueless.